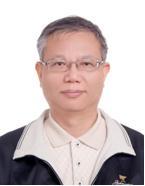 Name: Yu-Sen Yang(楊玉森)
Position: Professor
Tel: +886-76011000 ext. 32292
Fax: (07) 601-1066
Email: yusen@nkust.edu.tw
Office: B441
Laboratory:
Material Test Lab.

Heat Treatment Lab.

Metallography Lab.
Education:
Ph.D., Dept. of Material Science and Engineering, National Taiwan University, TAIWAN
Research Interests:
Surface Coating and Technology

Physical Metallurgy

Metal Processing and Heat Treatment
Prof. Yang's specialization is in the field of Materials Science. Before coming to NKFUST, he worked with Tsang Yow Company and the Metal Research and Develop Centre. His research interests are currently focused on the development of thin-film coatings. Work is currently being carried out to develop an optimum process for coating materials with DLC and nitride hard coatings. The mechanical properties of metallic thin films and multilayers are also being investigated. Dr. Yang also specializes in the use of advanced methods for characterizing the properties of materials, such as electron microscopy, atomic force microscopy and x-ray diffraction.
Dr. Yang teaches Materials Science courses in the Department, including Introduction to Materials Science, Physical Metallurgy, Surface Engineering, Electron Microscope, Mold materials and heat treatment.
Research Areas:
Development and fabrication of thin-film coatings using unbalanced magnetron sputtering.

Mechanical properties of materials and their relation to microstructure and heat treatment